Don't Pay the Ransom
Are you worried about the rising threat of ransomware attacks?
Don't wait until it's too late—take proactive measures today to secure your business!
Let's talk about protecting your business
Follow the 3-2-1 Rule to Defend Your Business from Ransomware
To get started with your data protection and disaster recovery plan, we encourage you to adopt the 3-2-1 rule:
Have at least three copies of your data: the original and two backups
Multiple copies ensure redundancy and increase the chances of recovering from an attack swiftly.
Utilize at least two types of media to store your data copies
For example, combine a local backup device with secure cloud backup services. This multi-tiered approach enhances your protection against data loss.
Keep at least one backup offsite, away from your primary business location
This step prevents the complete loss of data in case of a physical disaster, such as fire, flood, or theft.
We can help you with all three steps
Horizon's TotalCare Managed IT services are designed to safeguard small and midsized businesses in Western Canada from ransomware and other threats. Contact us to learn more.
Ransomware protection for Western Canadian businesses
As part of our TotalCare Managed IT, Horizon acts as the IT department for small and midsized businesses across Western Canada. You get comprehensive IT service to protect you from ransomware and other threats.
Learn More about how we manage the IT for businesses across Western Canada.
IT Strategy
Strategy, planning, and budgeting to keep you on track. Test
Security Services
We'll help you minimize the risk of a breach or data loss.
IT Support
Our friendly team will deliver a worry-free staff experience.
Network Management
We manage and monitor your network to keep you up and running. 
Every 11 seconds, a ransomware victim falls prey to cybercrime.
Are you prepared?
Ransomware attacks are alarmingly frequent, targeting businesses of all sizes with devastating consequences. The financial and operational damage caused by these attacks can be catastrophic, resulting in disrupted operations, data loss, and the extortion of hefty ransoms. However, there is hope! With the right defense strategies, you can shield your business from the grasp of ransomware.
17%
of all cyberattacks were ransomware in 2022.
4 days
average attack timeline for ransomware attacks.
45%
of ransomware attacks originate with phishing or social engineering.
Source: IBM
Backup Solutions: Your Last Line of Defense
We understand how important your data is to your business. That's why we emphasize the importance of robust backup solutions as your last line of defense against ransomware attacks. Attackers are well aware of the critical role backups play in recovery efforts, which is why they often target and encrypt them first. Safeguarding your backups becomes crucial to recover without paying a ransom.
Let's talk about ransomware and your backup solutions.
Free Whitepaper
Don't Pay the Ransom
Want to learn more about protecting your business from ransomware and developing a successful data protection and disaster recovery plan? Download the free whitepaper from Barracuda, "Don't Pay the Ransom." This comprehensive resource delves into the best practices and strategies to fortify your defenses, minimize risks, and stay one step ahead of cybercriminals.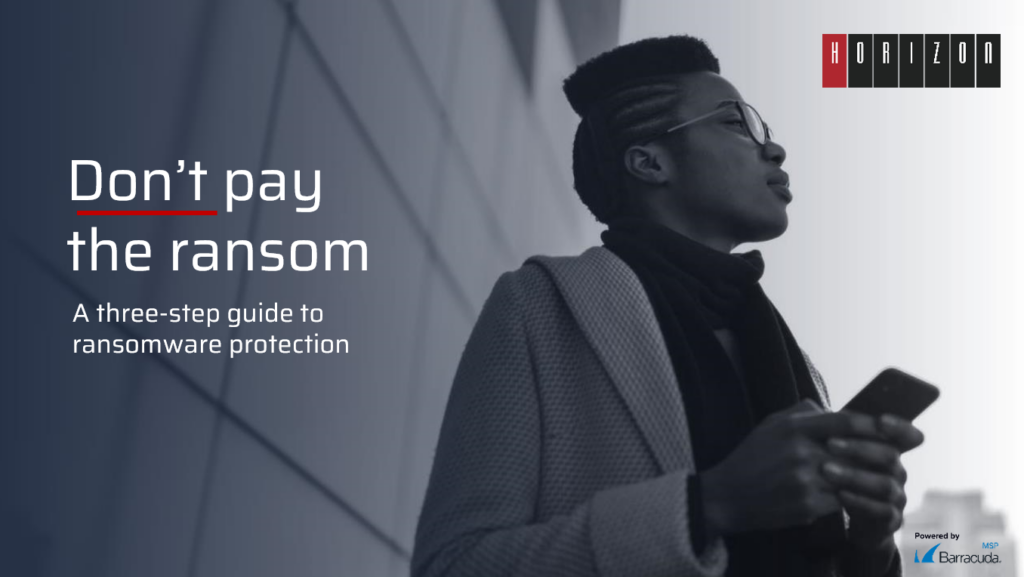 Take Action Today
Contact Us for Expert Guidance
Don't let ransomware hold your business hostage. Take the first step towards fortifying your defenses and ensuring the resilience of your operations. Contact our expert team today to schedule a consultation and discover how our TotalCare Managed IT services can safeguard your business from the ever-growing ransomware threat.