Recognized Veeam Gold ProPartner
Horizon, Your Veeam Gold Pro Partner.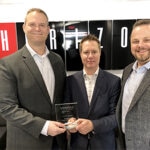 Congratulations to Philip J. Wasylow, Mark Trimble and Ryan Deptuch for helping us obtain our Veeam Gold Pro-Partner status!
The Veeam ProPartner Program is designed to help us help you.
Veeam's Gold ProPartner status just made helping you easier by letting us provide even more exceptional service to you, while also adding value and further securing your business.
Horizon can help you leverage Veeam Backup & Replication for fast and reliable backup for ALL workloads, giving you the ability to achieve shorter backup windows and reduce backup and storage costs.
Learn more about our IT Business Solutions here. Or, reach out directly to us for any questions or concerns here!